Hey Frisco, TX, are you interested in changing up your look with colored contacts? Colored contacts are a fun and exciting way to change your look and are great for events, parties and even every day wear!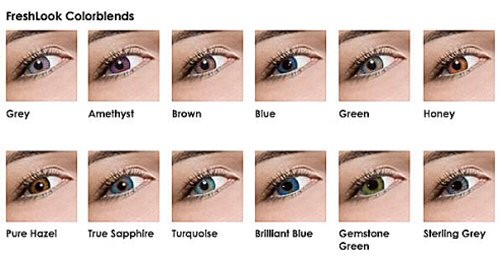 Air Optix Colors offer a wide variety of colors from brilliant brown to striking silver, you're sure to find a color that looks great. With Air Optix colored contacts you can choose from one of the vivid colors to completely change your eye color or the subtle colors to create a fun and personalized eye color.
Interested in enhancing your natural eye color? Acuvue Define lenses offer three different eye enhancing lenses perfect for defining your natural eye color. Wear glasses? You can still try colored contacts, both Air Optix and Acuvue Define offer plano contact lenses (lenses with no prescription in them) that can be worn under prescription eye glasses.
Colored contact lenses are easy to insert and remove, just like regular contacts, and come in both long wearing and daily disposable types. Colored contacts do require to be fitted by an optometrist and ophthalmologist and at Blink Eyecare we teach first time wearers insertion and removal and every one will get a contact lens starter kit.
If you've already had your annual eye exam at another office, bring your prescription in and Dr. Gaddis will be able to fit you with the correct power colored contacts. If you're interested in trying out colored contacts call us at (214) 865-6266 or stop by to schedule your contact lens fit today! At Blink Eyecare we are vision driven and style inspired.